Description
Shipping and Refund
Reviews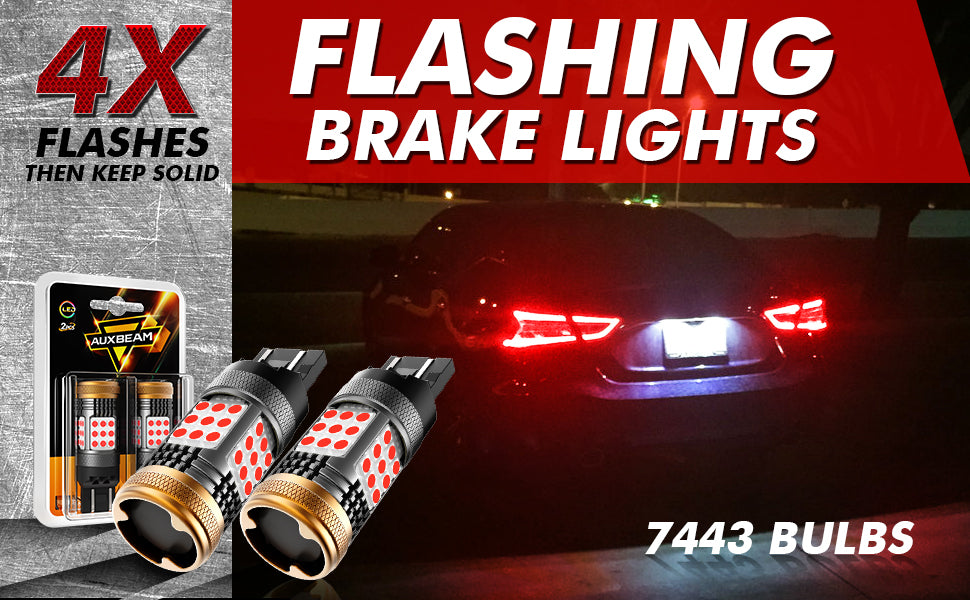 APPLICATION
This bulb can be used for brake light and tail light.
Non-polarity installation, both US standard and CK Socket.
Lighting Mode:
Red light strobe flashing 4 times in initial 1 second ;
Keep solid mode red light to warn the car behind.
Note: the flashing frequency is legal and normally used in most states.
MAIN FEATURES
SUPER-BRIGHT LIGHTING
36 pieces of customized 3030LED, 360-degree super-bright illumination, the brightness output is 2-3 times brighter than regular LED replacement bulbs. 

600% brighter than halogen bulbs.
CANBUS READY
Built-in CAN-Bus no flash no flicker, no error products.
LONGER LIFESPAN
6063 Aluminum Made in the highest quality.

The High-speed fan dissipates heat quickly, and the heat sinks of the lamp body control the temperature to prevent overheating and burnout.

Extends lifespan to 50,000 hrs.
PACKAGE INCLUDED

SPECIFICATIONS
Plug Type: T20 7443 7440 Universal
LED Type:  SMD 3030
Efficacy(per bulb): 28W
LED Quantity(per bulb): 24pcs
Efficacy Lumen(2/pcs): 600% High Brightness
Operating Voltage: 12-24V, fit 12V car
Color: Red
Material: Aviation 6063 Aluminum
Heat Dissipation Mode: Fan Cooling
LED Lifetime: 50000 hours
Waterproof: IP68
WARRANTY 
1-Year hassle-free warranty
ATTENTION

The bulb size may vary between trims of your vehicle,  please double-check the owner's manual or original bulb number to confirm before purchasing.

FIT SIZE: 992, 7440, 7440LL, 7440ST, 7441, 7443, 7443LL, 7443ST, 7444, W21W, WY21W, 7442, 7442NAL, 7440A, 7440NAK, 7440AST, etc.
International Shipping 
Auxbeam Lighting is shipping worldwide covering North and South America, Europe, Asia, Africa, Oceania and more.
We employ the services of major, trusted international carriers to ensure your package arrives at your destination safely.
U.S. domestic orders are shipped from our USA warehouse for the fastest delivery times but exceptions may occur based on stock shortage - because of which we may have to ship from China.
International orders are shipped from our China warehouse. 

Shipping Time
 
U.S. domestic shipping: about 3-5 Working Days
International shipping: about 8-15 working days
A standard processing time of up to 48 hours is required before the order is shipped out.
Due to challenges posed by the pandemic, our carrier is temporarily experiencing shipping delays, which may delay your delivery. We are always work to get your package to you as quickly and safely as possible.
 
Shipping Cost
 
We offer free shipping on all of our products to customers in the Continental U.S. when orders over $19.99. Customers in other regions need to pay additional shipping costs(Specific amount please kindly refer to your checkout page).
 
Tracking
 
Your tracking number will be sent in email immediately after we ship the order out. You may follow the link in the email to check the estimated arrival time of your order.
(Please note that tracking information will only be updated online in 1 working day after your order has been shipped.)
 
Additional Notes

If the wrong information is provided (address, phone, email) and results in your shipment being undeliverable, the customer is responsible for the shipping cost for the 2nd shipment.
We do not offer overnight shipping.
If you have any questions, please feel free to contact us via email: Customer@auxbeam.com
strobe flashing break light
I love my new strobe flashing brake lights. They are so much brighter than my Old ones.. and the flashing strobe really gets someone's attention.
Outstanding Performance
The quality of the bulbs are outstanding and perform like a super high quality bulbs .
Super recommended for anyone who's looking to step up their lights quality